Economists predict further peso slump if Trump wins
Mexico's peso may weaken to a range of 21 to 23 against the U.S. dollar if Republican presidential nominee Donald Trump wins the election, according to the majority of economists in a Bloomberg survey conducted Sept. 16-28.
The currency will likely trade between 18 and 21 if Hillary Clinton, the Democratic nominee, wins. Below is a chart of the survey results.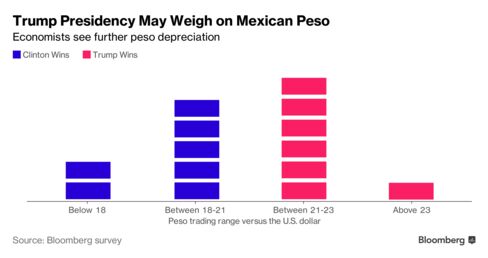 The peso strengthened the most against the dollar among its major-currency counterparts after the second U.S. presidential debate, in which both candidates exchanged barbs but Hillary Clinton was again perceived to have performed more strongly. It rose 2.4 percent to a one-month high of 18.8316 per dollar as of 10:44 a.m. Monday Oct. 10 in New York.
The Mexican currency has been a barometer of investor anxiety about the Nov. 8 election, falling when Trump advances in the polls and gaining when he slumps.
To view complete article click here.
Source: bloomberg.com
Comments
comments