News website in Armenia highlights "Las Momias de Guanajuato"
PanARMENIAN.net, the first Armenian English language online news outlet, analytics agency and one of the most cited Armenian informational resources worldwide, recently published an extended overview on the Guanajuato Mummy Museum (
Museo de las Momias de Guanajuato
). How to find the mummies, tips to enjoy this important tourist attraction, and other highlights of Guanajuato, México. Check it out and see for yourself…
Guanajuato is a city and municipality in central Mexico. It was founded in 1559 due to the region's rich silver and gold deposits. Opulent colonial buildings, stunning tree-filled plazas and brightly colored houses are crammed onto the steep slopes of a ravine. Being best known internationally for its acclaimed annual international arts festival, the Festival Cervantino, the city is also home to one of the world's scariest museums – the Mummy Museum (El Museo De Las Momias).
PanARMENIAN.Net – 111 bodies of mummified men, women, and children are on display, many with gaping mouths shaped in eternal screams from having been buried alive and buried during the cholera outbreak in 1833. They were gradually dug up from their final resting places between 1865 and 1958 because their surviving relatives were unable or unwilling to pay taxes to keep them interred.
Weirdly, due to the extremely dry conditions of the soil, the corpses often came up as well-preserved mummies (the first to be dug up and found mummified was one Dr. Remigio Leroy on June 9, 1865.) The cemetery kept these strange mummified corpses underground in an ossuary — actually under the cemetery grounds itself — in case the relatives came around with the money wanting a re-burial.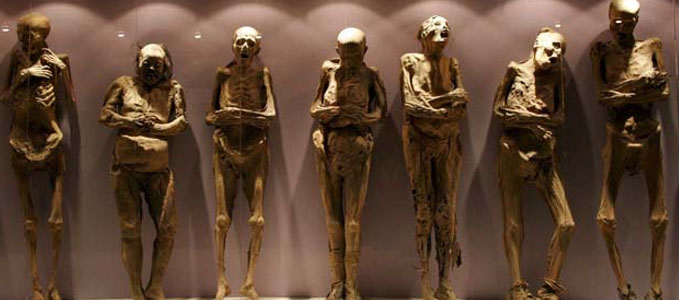 It has been estimated that approximately 2% of bodies mummified. These bodies were stored next to the graveyard, where workers charged locals 3 pesos to view the mummies. This practice of exhuming bodies continued well into the 1950s.
In 1970, a Mexican horror movie was produced there called "Santo Versus the Mummies of Guanajuato", starring masked wrestler Rodolfo Guzmán Huerta.
By 1894, the ossuary had racked up enough mummified bodies to rebrand itself as a museum to enter which 50 pesos ($2,5) are needed today.
In 2007, Guanajuato Mummy Research Project was initiated to raise awareness of the mummies, which were examined in Mexico and the United States. The study found evidence of medical conditions such as rheumatoid arthritis and tuberculosis those people suffered when alive.
Mummies Museum is by no means a family orientated attraction and most sensible tourists dislike the thought of viewing mummified bodies, which are a little over 100 years old. However, usually curiosity prevails and over 4,000 visitors every week find themselves a macabre room, 15m in length, in which two long lines of mummies are displayed behind two panes of glass, which form a path that the visitor must walk along.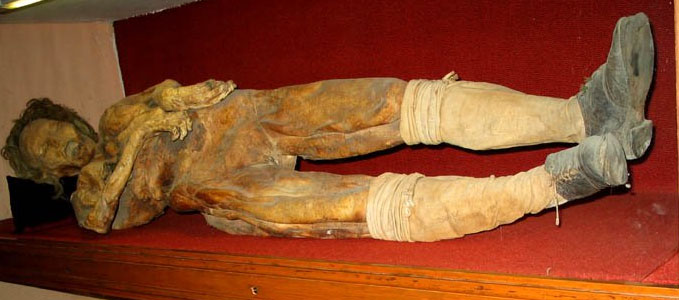 One glass case contains three agonized mummies: a man whose fatal stab wound to his abdomen is still a visible puncture in his parchment-yellow skin, a drowned man whose rigor mortis set his writhing legs in the form of a frog's, and an unmarried pregnant woman who was buried alive by her own family, her screaming face covered by skeletal hands.
There are mummies of Catholic children, who were dressed as angels, if girls, or as saints, if boys, to indicate their purity.
Source: http://www.panarmenian.net/
Comments
comments