10 must see tourist attractions in Guanajuato
Bryan Dearsley published on planetware.com: "10 Top-Rated Tourist Attractions in Guanajuato". So in this Easter Holidays you should visit each one and enjoy one of the most beautiful cities in Central México.
In the very heart of Mexico, the lovely old city of Guanajuato – capital of the state of the same name – has long been a popular destination for non-Mexicans, whether for vacationing or as permanent residents. Thanks to its valley location, Guanajuato's streetscape is one of narrow winding lanes and alleys often suitable only for pedestrian traffic due to their width and flights of steps, some of them even located underground. Adding to this delightful UNESCO World Heritage Site cityscape are numerous small plazas, colonial-era mansions, and churches built using pink or green sandstone, along with many excellent museums and art. Home to world class events like the Festival Internacional Cervantino, which attracts artists from across the globe each fall, this beautiful colonial city, four hours north of Mexico City, makes a fun destination for an overnight stay (or longer if you can manage it).
1 Jardin de la Union in the City of Plazas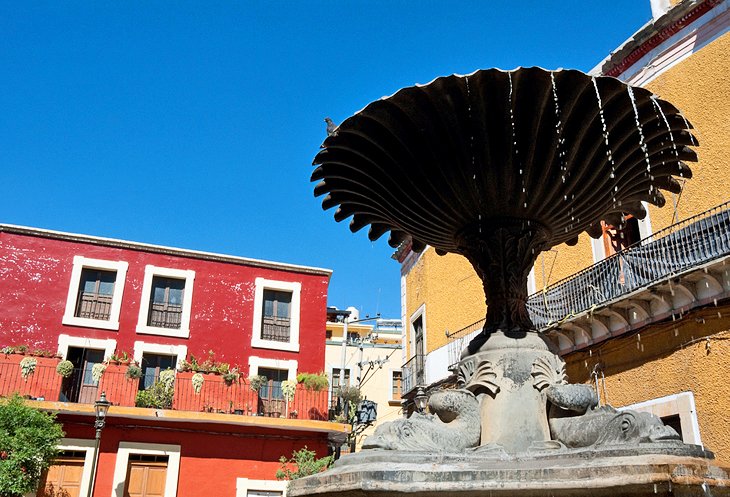 The Jardin de la Union is the heart of historic Guanajuato and serves as the city's main square. Always bustling, this pleasant plaza with its fountains and flower beds is ringed by numerous hotels and restaurants, making it a perfect place from which to venture out to explore the rest of the city. It's also where you'll find a number of architectural gems, from the beautiful old Baroque San Diego Church to the majestic Juárez Theater (Teatro Juárez) that dominates the square (check out the church's museum for its history of the old convent as well as that of the city). Also worth exploring is Plazuela de los Angeles, which leads to city's most famous street, the Callejón del Beso, or Kissing Lane, so named as it's narrow enough to allow a loving couple to kiss from windows on opposite sides. Just a little further along stands the Mercado Hidalgo, a market hall opened in 1910 that's worth visiting for its local crafts and produce.
2 Editor's PickGoing Underground: Exploring Guanajuato's Tunnels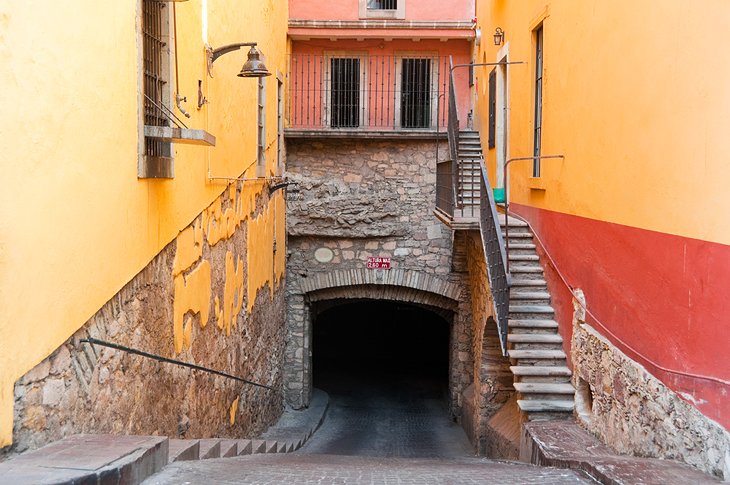 A highlight of a walking tour of Guanajuato is delving into the city's amazing network of subterranean streets and alleys. Built of necessity to handle the often-flooded Guanajuato River (Rio Guanajuato) that once flowed under the city, the tunnels became obsolete after a nearby dam was constructed to control the river upstream. The extensive network of tunnels that remained were put to good use as roadways, alleviating the congested streets aboveground and making the streets safer and more interesting for pedestrians. These cobblestone roadways also accommodate pedestrians through a number of well-marked footpaths that are fun to explore. Accessible from stone staircases at numerous locations around the old city, the tunnels are a must-see attraction and they can also save time if you need to get from one place to another in a hurry.
3 Teatro Juárez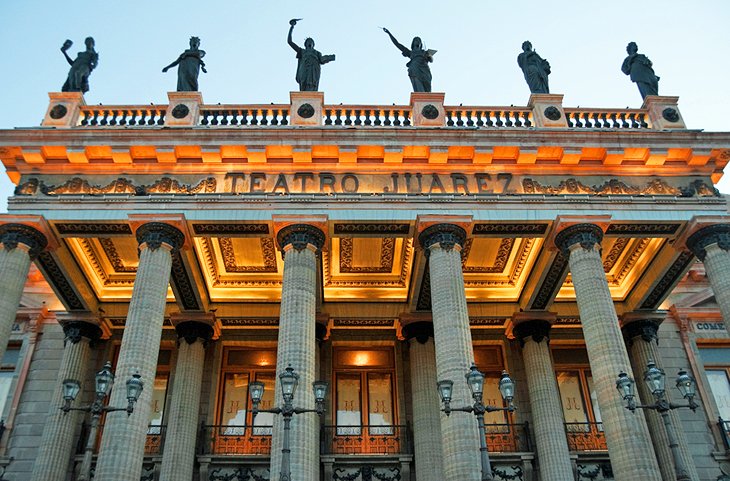 Dominating the Jardín de la Unión, Guanajuato's pretty main square, is the beautiful Juárez Theater (Teatro Juárez), the city's opera house. Opened in 1930 after some 30 years of construction, this splendid neoclassical building is notable for its massive Doric columns supporting a Romanesque portico adorned with nine bronze statues of the Greek muses, as well as the steps leading up to the building, a favorite meeting place for locals and tourists alike. The building's plush Art Nouveau interior is also worth seeing for its rich gilded décor, finely carved wood, and stained glass, especially if you can do so while taking in one of the theater's regular musical or dance performances.
Comments
comments