Mexico raises interest rate as inflation hits highest level since recession
Mexico's central bank slowed the pace of monetary policy tightening while delivering a fifth consecutive rate increase, after the inflation rate rose to the highest since the 2009 recession, Bloomberg News reported.
Led by Governor Agustin Carstens, Banco de Mexico unanimously decided to lift rates by a quarter point to 6.50 percent, in line with the median forecast of 26 economists in a Bloomberg survey. Eight of the analysts had expected a larger half-point increase. The peso strengthened after the decision as the central bank left open the chance for more interest rate increases and said it will take the Federal Reserve's decisions into account.
Banxico has raised rates more than any of the other 35 central banks tracked by Bloomberg since the start of 2016, including four consecutive half-point increases through February. That pace is now slowing. A jump in fuel prices and a rapid decline by the currency following Donald Trump's election have helped to push inflation well above the target range, but improving prospects for a positive outcome in Nafta negotiations have made the peso a top performing currency since mid-January.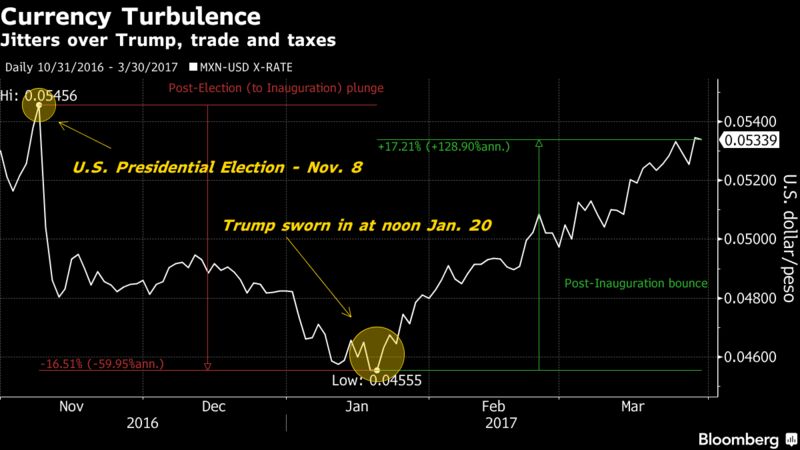 "I think it's a relatively hawkish statement that's consistent with Banxico still hiking a bit more, but now following the Fed one to one," said Carlos Capistran, the chief Mexico economist at Bank of America Corp. "Having said that, given that we expect the economy to decelerate and higher inflation to be temporary, we believe the central bank is close to ending its hiking cycle."
Fed officials raised their benchmark lending rate by a quarter percentage point on March 15 and stuck to projections for three total hikes this year.
Carstens told Bloomberg TV on March 23 that the central bank is watching inflation to ensure it doesn't get out of hand, but that for now it is progressing as it should given recent price shocks, such as the surge in gasoline prices. He also said that the peso is undervalued by as much as 10 percent, even if the "unknown" of bilateral relations with the U.S. is taken into account.
Since the interview, the currency has gained close to 2 percent through yesterday, when it closed at 18.7068 per dollar, and 18 percent since hitting its all-time low Jan. 11, more than any currency in the world tracked by Bloomberg.
---
---
While inflation has soared, the outlook for consumer price gains hasn't deteriorated since the last central bank meeting, the central bank said in its statement.
Banxico has "already acted quite conservatively over the last few months," Alberto Ramos, chief Latin America economist for Goldman Sachs Group Inc., said before the decision. "Given the weak real business cycle dynamics and reduced tail risks on the currency, there's no need for them to act as aggressively as they've done before."
'Potential Pass-Through'
Consumer prices rose by an annual rate of 5.29 percent in early March, the most since the 2009 recession and far above the 3 percent target. Inflation soared after Mexico rolled back subsidies on gasoline and as uncertainty over Nafta negotiations sent the peso reeling beyond 22 per dollar.
Reflecting lingering concern over the Trump administration's tax and trade policies, Mexico's economic growth is forecast to slow to 1.5 percent this year from 2.3 percent last year.
Still, the most recent activity indicator sped up in January, a sign of greater resilience than economists had expected. The indicator, known as IGAE, rose 2.96 percent from the year earlier, compared with the median economist forecast of 1.90 percent.
Source: bloomberg.com
Comments
comments