If there's one thing better than guaranteed sunshine and blue skies on your next vacation, it's the knowledge that there will be no nasty surprises come check-out time.
All-inclusive vacations mean that one price fits all, covering almost everything, save those optional extras or upgrades.
Mexico and the Caribbean boast countless options to kick back and relax, so here are some of the best options when it comes to staying in style — but also on budget.
The Crane Resort, Barbados
Crane Beach in Barbados has been voted one of the world's best and The Crane Resort sits on its pink sands. Dining avoids the buffet option often seen elsewhere, with restaurants including L'Azure offering fresh seafood overlooking the ocean or Italian classics at D'Onofrio's Trattoria.
At their Bar 1887, rum punch is on the menu, as well as the promise that "happy hour can be every hour." The resort features six swimming pools, waterfalls, whirlpools and private pools, gardens and terraces.
From $1,651 per couple for a three-night stay.
UNICO Riviera Maya, Mexico
Unlimited spa treatments, golf and off-property excursions are some of the draws at the UNICO 20°87° Hotel Riviera Maya. The recently-opened property is adults only and intriguingly named after its latitude and longitude on the Yucatan Peninsula.
They also offer an app that promises to allow you to order pretty much anything via your phone — and open your room door. A dirty martini to your sunbed? Housekeeping to make up the room?
When you can drag yourself away, there are five globally-inspired gourmet restaurants, six bars and lounges and three pools.
From $1,539 per couple for a three-night stay.
Spice Island Beach Resort, Grenada
One of the Caribbean island of Grenada's biggest draws is Grand Anse Beach, three curved miles of golden sand and home to Spice Island Beach Resort.
Popular with couples and families, the all-inclusive, AAA Five Diamond resort includes premium cocktails and house wines.
Grenada is famed for its herbs, spices and chocolate, and all three appear across the menus at their gourmet restaurant Oliver's, where Creole cuisine is front and center. Lunch is served at Sea and Surf Terrace & Bar, and in-room dining is another option.
The herbs show up again in treatments at Janissa's Spa, tucked away in a tropical garden. Evenings are capped off with reggae and steel bands.
From $3,435 per couple for three nights.
Iberostar Grand Hotel Paraíso, Playa del Carmen, Mexico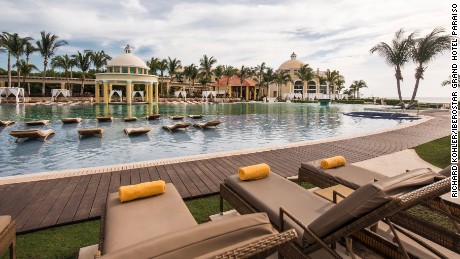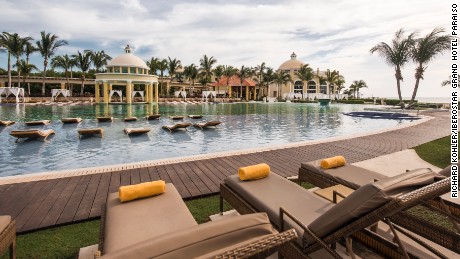 Located in Mexico's Riviera Maya, an hour south of Cancun, the Grand Hotel Paraíso is the top tier of Iberostar's portfolio of properties.
The adults-only, five-star resort in Playa del Carmen lives up to its name with indoor botanical gardens, a pool with a sliding roof and an 18-hole golf course, with one round included per person.
If you have the energy to leave your beach cabana or private terrace, there is a huge array of other sports and activities, everything from archery to tai chi. Plenty of gourmet dining options then allow you to indulge before catching a show in the on-site theater.
From $1,600 per couple for a three-night stay.
Cap Maison, St. Lucia
St. Lucia is one of the Caribbean's most stunning islands and the Cap Maison resort offers dramatic clifftop vistas featuring both the Atlantic Ocean and the Caribbean Sea.
Forty-nine suites are spread over three landscaped acres, all designed in Spanish Caribbean style, while private white sand beaches add to the sense of exclusivity.
When it comes to fine dining, the Cliff at Cap offers contemporary French Caribbean cuisine. The Naked Fisherman Beach Bar & Grill serves up a more casual experience on the sand.
The most impressive dining experience — and undoubtedly Instagram-friendly — is Rock Maison, a scenic perch accessed only by a wooden staircase from the clifftop, where champagne is delivered by zip line. Best not to try that one at home.
All-inclusive offers from $1,698 per couple for three nights.