CNN Travel's Best things to do in Guanajuato!
Conservative Guanajuato city — which, incidentally, once tried to 
ban public kissing
 — is the capital of its namesake state.
It also eschews the classic grid system of most other Mexican cities. Instead, there's a network of crisscrossing roads beneath its cobbled streets and a honeycomb of winding back alleys.
Stealing a (now legal!) public kiss and a photo at the well-known "Callejón del Beso" (Kiss Alley) is a Guanajuato rite of passage.
---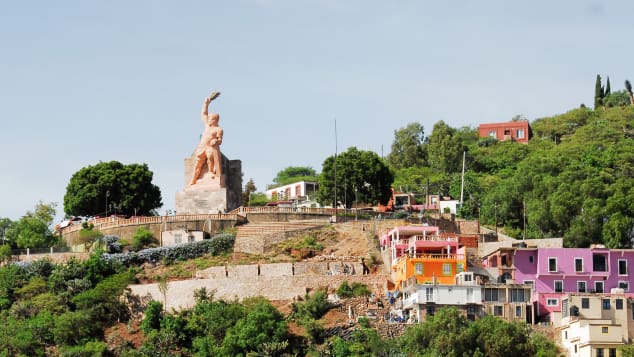 Monumento al Pipila Guanajuato (Shutterstock)
---
Naturally, the best way to get a feel for this peculiar place is to walk, walk, walk.
And right before you're done walking, ascend to the Monumento al Pípila. This pays tribute to Juan José de los Reyes Martínez Amaro, aka El Pipila, a miner and local independence movement hero.
From the top, take in 360-degree views over that iconic Guanajuato skyline made up of mountains and squat candy-colored buildings.
The mustard-colored gem at the heart of it all — the Guanajuato basilica — deserves a closer look, and while you're in the area, you should also set aside an hour or so to enjoy the other nearby edifices, including the impressive Teatro Juárez and the Universidad de Guanajuato's imposing, dramatic staircase.
Buildings aside, there is perhaps no city which revels in the legacy of "Don Quixote" author Miguel de Cervantes more than Guanajuato. In fact, each October it hosts the International Cervantino Festival, an incredible celebration of art, literature and music which helps temporarily swell the already skinny-streeted city's population for the duration of its month-long run.
For a Cervantes fix outside of festival hours, head to the Museo Iconográfico del Quijote, or visit the former home of Guanajuato's other creative, muralist Diego Rivera. Whatever you do though, don't miss the famed Museo de las Momias (Mummy Museum) which is both self-explanatory and spooky to boot.
For an evening of entertainment, look no further than Guanajuato's most inimitable after-hours attraction, the callejoneada. Follow a band (literally, they play music) of knickerbocker-clad tour guides around the alleys, and listen as they recount tales of the city's history along the way.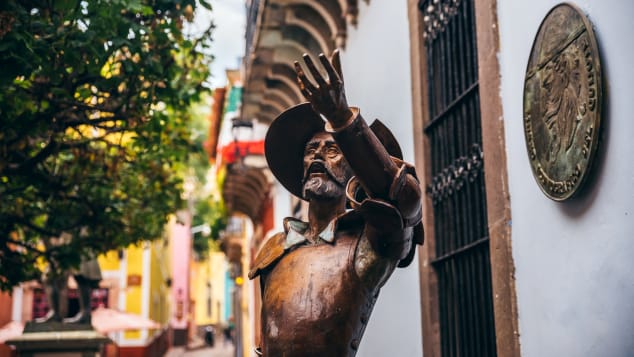 When it comes to eating, you can sample any number of riffs on Guanajuato's classic potato and carrot-topped enchiladas mineras from the street vendors, whereas El Paisa Tacos is the spot for tacos al pastor.
Yet the city is also home to a surprising amount of international dining options. Grab sushi or curry from the first-floor blink-and-you'll-miss-it Delica Mitsu or indulge in some very reasonably priced falafel at Habibti.
Finally, satisfy that sweet tooth with an assortment of chewy macarons from La Vie en Rose, and round out the evening by buying a to-go craft beer from the Craft Beer Company.
And if you really must eat at the heavily-touristed Santo Café, make sure you get one of the coveted outdoor tables. Otherwise, skip it.
After all that on-foot exploring, where should you lay your head in Guanajuato? Well, Hotel 1850 has an unrivalled downtown location combined with a chic interior design.
Meanwhile, Villa Maria Cristina Hotel practically oozes elegance and corners the high-end accommodation market in Guanajuato.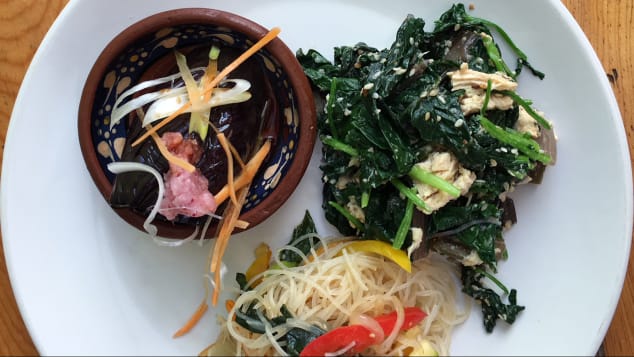 Callejón del beso, Centro, 36000 Guanajuato
Monumento al Pípila, Ladera de San Miguel 55, Centro, 36000 Guanajuato
Basilica de Guanajuato, Calle Ponciano Aguilar 7, Centro, 36000 Guanajuato, +52 473 732 0314
Teatro Juárez, De Sopeña 10, Centro, 36000 Guanajuato, +52 473 732 2521
Museo de las Momias
, Explanada del Panteón Municipal, Centro, Panteón, 36000 Guanajuato, +52 473 732 0639
El Paisa Tacos, Av. Benito Juárez, Centro, 36000 Guanajuato
Delica Mitsu, Del Campanero 5, Centro, 36000 Guanajuato
Habibti, Sostenes Rocha 18C, Centro, 36000 Guanajuato, +52 473 732 9418
La Vie en Rose
, Cantarranas 18, Centro, 36000 Guanajuato, +52 473 732 7556
Craft Beer Company, Cantarranas 56, Centro, 36000 Guanajuato, +52 473 734 0577
Santo Café, Campanero 4 Puente, Del Campanero, Centro, 36000 Guanajuato, +52 1 473 122 2320
Hotel 1850
, Jardín de la Union 7, Centro Histórico, Centro, 36000 Guanajuato, +52 473 732 2992
Comments
comments