Getting Lost in San Miguel de Allende is a Good Thing
I'm lost in the backstreets of San Miguel de Allende, Mexico…and it's a good thing. I took a left at a hand-painted shrine to Mexico's patron saint, the Virgin of Guadalupe, and strolled down a callejon so narrow I can almost reach out and touch the walls on both sides.
But emerging at the end, I found a lady selling fresh flowers; a bouquet of a dozen roses, thorns cut, for $2.10. And my new favorite taco shop is right across the street; a great snack of tacos al pastor for 50 cents each.
San Miguel never ceases to surprise. Although it's a small city of around 125,000, the colonial centro is packed with history and fun…and it doesn't always give up its secrets easily. I'm certainly still discovering new things to see and do, even after living here a year and a half.
As UNESCO World Heritage site, large or garish signage is not allowed. As a result every time you turn a corner or poke your head into a doorway, you never know what you might find. On one of my recent strolls around town, I cam across a simple, plain doorway that gave way to a vast interior courtyard, with potted plants, tinkling fountain, and restaurant tables. The perfect spot for a relaxing late breakfast for my wife and I.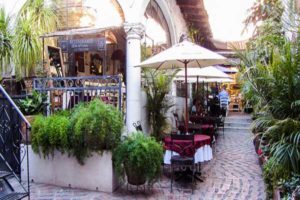 Any type of cuisine you could want is here, from Turkish to sushi to gourmet Mexican. And meals rarely go above $10 for an entrée even at the nicest places. We go out to eat quite often, as a result. Something we rarely did in the U.S.
I recently discovered a favorite new café quite by accident. A small chalkboard sign on a doorway caught by eye…
CLICK HERE FOR FULL ARTICLE ON INTERNATIONAL LIVING
Comments
comments