Mexico's economy contracted in the First Quarter (Bloomberg)
President Andres Manuel Lopez Obrador's promise to double the pace of Mexico's economic growth is off to a rough start.
Gross domestic product shrank 0.2 percent in the first quarter from the previous three months, a preliminary report from the national statistics institute showed Tuesday, below all estimates of economists surveyed by Bloomberg. Services activity contracted after being a bright spot in recent quarters and oil output remained weak.
GDP expanded 1.3 percent from a year earlier, down from 1.7 percent at the end of last year. While final numbers won't be published until May 24, only three of 24 quarters under previous President Enrique Pena Nieto were worse. Lopez Obrador frequently cites his predecessor for current challenges, from record homicides to troubled finances at Petroleos Mexicanos.
Lopez Obrador faces a daunting task as he tries to get the economy to grow at his 4 percent target. Mexico has long suffered from a weak rule of law and rampant crime. Add to that concerns from decisions like his cancellation of a $13 billion airport and the suspension of oil contracts, and private companies are left without the certainty to invest, said Alonso Cervera at Credit Suisse AG.
"The biggest challenge is to create confidence in the business sector so that private investment can recover and accelerate," said Cervera, the firm's chief economist for Latin America.
Speaking Tuesday at a conference organized by LatinFinance, Arturo Herrera, the undersecretary of finance, implored private-sector investors to work with the government to boost growth. Gross fixed investment fell 6.4 percent in December, when the leftist Lopez Obrador, known as AMLO, took office, the most since 2013.
The value of private investment in Mexico is 6.7 times that of public investment, underlining the need for the Lopez Obrador administration to clearly explain the thinking behind its decisions, Herrera said.
Mexico is expected to grow 1.5 percent this year, a quarter slower than the 2 percent expansion in 2018, according to a Bloomberg survey. The transition to a new government has a tendency to hinder economic growth in Mexico as officials struggle to make public spending flow.
Some economists are less optimistic. Bank of America Corp. forecasts growth of 1 percent as the economy faces risks including the U.S.-Mexico-Canada Agreement trade deal failing to win approval, the erosion of confidence in AMLO and further declines in oil production. Output from state-owned Petroleos Mexicanos fell in January to the lowest ever in public records that date back to 1990.
Analysts expect the central bank to cut interest rates toward year-end from a decade high 8.25 percent as inflation and growth slow.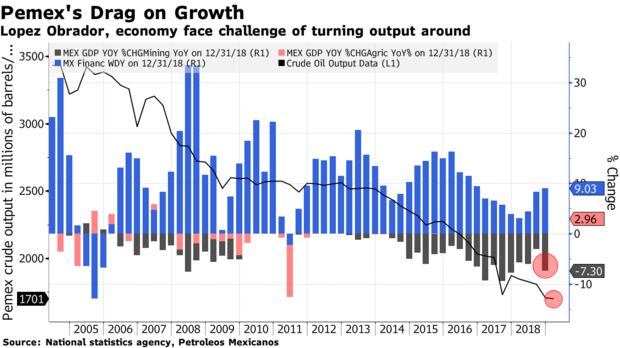 CLICK HERE FOR FULL ARTICLE ON BLOOMBERG
Comments
comments