In 2019, the LGBTQ movement in Mexico is peaking like never before.
This is no coincidence since at this point in time the young population is also at an all time high, and it has become the driving force behind many cultural changes.
"There are 30 million young people in Mexico, the largest demographic group in the country and the largest number in the history of the country as well," said Roberto Pérez Baeza of the Fundación Arcoiris (Rainbow Foundation) during a press conference as part of the International Day Against Homophobia on May 17.
The advancement of the LGBTQ movement has taken off in a rather short period of time in a nation that is still breaking the chains from religion, and where Mexico City and its "liberalism" doesn't reflect on other states in the country.
"Mexico City is a paradise. I don't know if anyone realizes it, but we are in a paradise. You should see the abuse that members of our community suffer in other states," said Pérez Baeza.
---
History wasn't always kind to the LGBTQ community, especially in a country were society is ruled by Catholic principles and there are various dynamics at play when it comes to the inclusion of minority groups.
The LGBTQ movement in Mexico can be traced back to July 6, 1978 when gay protesters joined a march against the political regime in Mexico City, according to a Autonomous University of the State of Mexico (UAEM) sociological study.
When looking at the history of Mexico, the only thing that is clear is that the country has never really been able to define sexuality outside of a man with a woman. Pre-Hispanic cultures in Mexico either, allowed, glorified, despised or killed those who engaged in acts of homosexuality, which doesn't bear a lot of contrast with the actions of modern society. While some societies, the that of the Zapotecs, celebrated sexual diversity and even recognized a third gender, the dominating Aztecs of the Valley of Mexico emphasized masculinity and severely punished acts of sodomy.
The conquest of Mexico by Spain and the incursion of the Catholic Church added another level of "taboo" to homosexual activities, or any other sexual exploration beyond the sanctity of marriage, but people still practiced their sexual preference even though it sometimes led them to get killed.
As a society that is ruled heavily by social class, it's no surprise that homosexuality wasn't condemned unless it was carried out by someone from the upper classes, and that remains true in modern Mexican society. Social class plays a huge role in our identity, customs and behavior.
In 1901 in Mexico City, during the presidency of Porfirio Díaz, the police raided a house were a party was taking place in which 22 men were dressed in men's clothes and 19 men in women's clothes, an event that came to be known as "The dance of 41." The event caused a great stir because most of the men belonged to the upper classes, and it is even said that there actually were 42 men, but that one of them was Díaz's son in law, who was allowed to escape by police.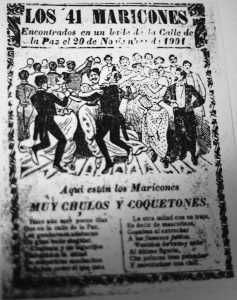 Satire with homophobic slur by José Guadalupe Posada about the "The dance of the 41." Photo: Wikimedia
Also in 1901, there was a similar police raid at a lesbian party, however there was little attention paid to this event, which says a lot about gender identity in Mexican society.
In Mexico and in many cultures around the world, "machismo" is seen as completely destroyed by homosexuality but the same doesn't always apply to femininity. Even in 1901, it seems that people didn't think that a woman was robbed of this if she was lesbian.
This is reflected in the number of hate crime related murders in Mexico, which in 2015 appeared as the second country with the highest number of murders due to homophobia, the vast majority against men, according to a report by the Citizens Comission against Hate Crimes and Homophobia (CCCOH).
Even in pre-Hispanic cultures, there is less material on sexual acts between women, than there is about sodomy and sexual acts amongst men.
The most famous lesbian figure in Mexico seems to be that of Sor Juana Inés de la Cruz. A portion of her literary work has been deemed as a declaration of love and physical attraction towards a number of different women, and it is said that de la Cruz chose the clergy in order to avoid marriage.
Another important LGBTQ figure in Mexican history, if not the biggest, is artist Frida Kahlo, who was bisexual and is rumored to have been in a relationship at some point with music icon Chavela Vargas, herself also rumored to have been homosexual. Most people in Mexico are still not aware of Kahlo's sexuality due to her relationship with painter Diego Rivera.
Is worth noting that both De la Cruz's and Kahlo's sexualities have been the subject of rumors for years, and while many people consider their queerness a given, no one has ever really been able to find substantial evidence.
De la Cruz's rumored sexuality can help shed some light on the relation between homosexuality and the clergy, given that in the past marriage was the only option for both men and women. It is possible that many people saw the church as their only way out of a forced marriage.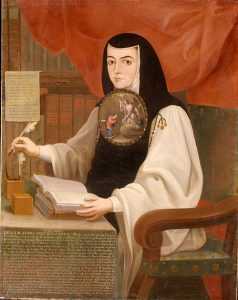 Portrait of sor Juana Inés de la Cruz by Andrés de Islas. Photo: Wikimedia
It's impossible to ignore the influence of the Catholic Church in the homophobia that exists in Mexican society. The church's tendencies to sentence homosexuals as "sinners" has always led society to a rejection of sexual freedom and exploration.
According to newspaper El Universal, in 1657 while Mexico was under Spanish rule, two men were discovered engaging in sexual acts. They were arrested and taken in front of her Majesty's Supreme Tribunal where they implicated 123 others, 14 of which were burned alive and a 14 year old boy was sentenced to 200 lashes.
In 2016, Cardinal Norberto Rivera Carrera, the head of the Catholic Church in Mexico, denounced same-sex marriage as something to be denied and rejected by Catholics. He went as far as to call it a "fashion." The church led by Rivera Carrera also rejected adoption by same-sex couples.
Many people think that Catholicism has been the most important oppressor of the LGBTQ community in Mexico, however, it's mostly our society that has turned a blind eye to this community and at some point drove it to exist in a clandestine sort of way.
The sexual liberation movement of the 70s had an effect in Mexico, leading to the creation of the first LGBTQ group, Homosexual Liberation Front, which lasted only a year.
In 1973, theater actress and director Nancy Cárdenas became the first woman and public figure to openly discuss her homosexuality on T.V.
The first LGBTQ march took place in 1978 in favor of the Cuban Revolution, and subsequent marches would later take place during the 70s in favor of many leftists agendas, to which the LGBTQ movement aligned itself with during that decade, and subsequently to this day in most of the world, there is link between the LGBTQ movement and "the left."
This connection is due to the fact that most movements from the left come from groups that have been oppressed throughout history and are fighting for equality.
Sor Juana Inés de la Cruz's "unverified" homosexuality didn't stop activists Patria Jiménez Flores and Gloria Careaga-Peréz in 1992 from creating a non-profit by the name of "El clóset de Sor Juana" (Sor Juana's closet), which focuses on helping lesbian and transgender individuals.
Jiménez Flores would later become the first openly gay person to win a sit in Congress for the Democratic Revolution Party (PRD) in 1997.
The LGBTQ movement in Mexico and movements worldwide owe a lot of its momentum to the gay rights movement in the United Sates, because whether by informing themselves or by watching popular U.S. culture, Mexicans have absorbed many concepts form the United States, including the approval of same-sex marriage by the government, which to this date is still being debated by Congress.
Mexican society has also developed a greater "acceptance" of same sex marriage, thanks to the overwhelming influence of U.S. culture, although this has taken place mostly in Mexico City.
In 2003, the National Commissions for the Prevention of Discrimination (Conapred) was created in order to combat discrimination.
The LGBTQ community is just another sector of society that falls victim to a political system in Mexico that is ruled by populist policies, and this way of operating has led to a great conflict when it comes to legalizing same-sex marriage, because the government doesn't want to anger the people that still oppose it but also wants to cater to those who favor it.
History shows that Mexico has not respected equality. By subjecting it to personal opinions and political ideologies it has turned equality into something that is subjected to a popular vote.
In Mexico it seems that the LGBTQ community has always had a significant presence in one way or another but society has always tried to throw a blanket over it. Events like the "Dance of the 41" prove that even in the past, people have practiced their sexuality freely, and not only that, but LGBTQ figures have had a huge effect on Mexican culture.
The modern LGBTQ movement is currently trying to push against hypocrisy and put pressure on the government and political parties in order to recognize the rights of the LGBTQ community.
Source: News.mx