Hurricane Nora devastates Puerto Vallarta
Puerto Vallarta, Mexico – Hurricane Nora passed by Puerto Vallarta Saturday night without much affect, but the heavy rains that followed caused the Rio Cuale to overflow early Sunday morning. Streets, houses and businesses were flooded, a bridge collapsed and vehicles were swept away by the strong current.
The major damage was caused by the strong current of the Rio Cuale, which caused part of the Insurgentes street bridge, which connects El Centro with the Romantic Zone, and the Joint Coworking Hotel building that sits on the banks of the river to collapse early Sunday morning.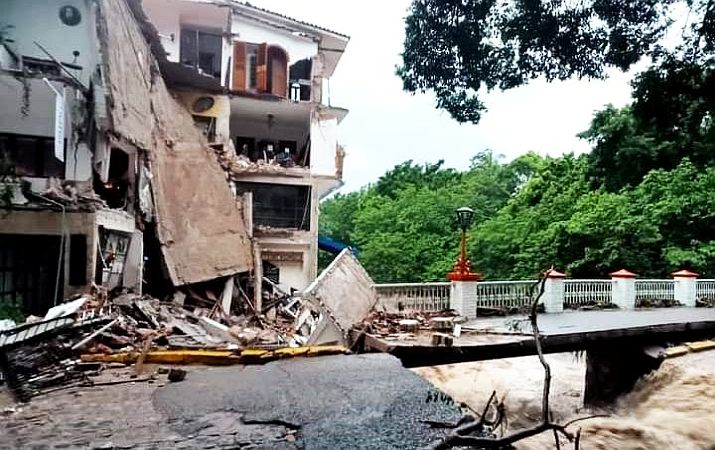 The couple who ran the hotel heard a creaking noise and evacuated most all of its occupants before the building collapsed. Civil defense elements rescued three people from the rubble but, sadly, a missing child was later found dead.
Morelos street was completely flooded right before the Cuale river bridge. Several homes were flooded, and many shops and restaurants were seriously damaged after the water entered and filled them with mud.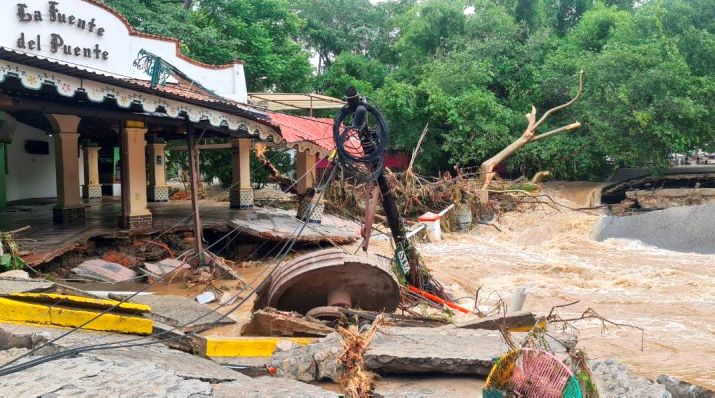 Due to the damage, the downtown area has been closed to vehicular and pedestrian traffic, and the Government of Jalisco has deployed 98 elements of Civil Protection and the Secretariat of Security, with more than 50 vehicles, to help the affected population.
The municipal president, Jorge Quintero Alvarado, reported that about 200 people had been evacuated in Ex Haciendas del Pitillal and other areas in the vicinity of the Pitillal River, which overflowed on Sunday morning. In the San Esteban neighborhood a house fell into the river.
As the rains continue, the rivers continue to swell and undermine foundations of other structures. The flooding has left several collapsed buildings in its path, cars washed away and damages that will surely be several million dollars. It is estimated that this is a 50-year flood. The authorities have activated the DN / -III Plan, and the Mexican Army is already assisting with the natural disaster cleanup.
Our thoughts and prayers are with the family who lost their child and everyone else who was affected by the storm.
Source: The Guadalajara Post
Comments
comments