New wells were dug and a new water system is in place
By the end of this month, San Miguel de Allende will have world-class water supply equipment.
It is about its "Complementary drinking water supply system" that will consolidate the "Acuaférico Ignacio Allende", a first-world hydraulic engineering work installed for the first time in the history of the municipality.
In fact, this "aquifer" is the only one of its kind in the entire state of Guanajuato.
According to a statement, the technical "heart" of this aquarium is the "Sports Unit" sump that will be "fed" with the liquid from the new "El Mirador" well, already completed and ready to operate, two that are in process. drilling and three more in the pipeline.
The municipal government that everything is done with an investment of more than 105 million pesos and will take place at the end of August.
PUMPING TO THE MAXIMUM
These wells will pump an average of 45 liters per second to the "Unidad Deportiva" sump, which will receive around 270 liters per second and distribute them through a 12.2-kilometer conduction system to the "La Mesa", "Independencia" tanks. , repumping station "El Caracol" and "San Miguel Tres Cruces"; that is, to the upper, western, and northwestern areas of the city.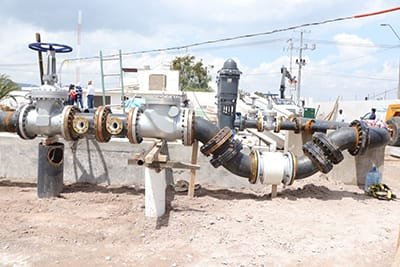 Thus, through the tanks, it will reach homes through a sectorization plan that, with the implementation of the technology, will allow efficient spending on energy and the liquid itself. It is very important that citizens participate in the care and sustainability of water.
Right now, San Miguel de Allende covers its demand for water. The aquifer will meet the needs of the population until at least the year 2041; It will even allow the wells that are currently operating to rest.
They concrete a pumping station and one of the new wells.
There are 12.2 kilometers of water lines to 5 tanks.
It will secure the water for at least 20 more years.
Upper, west and northwestern area main beneficiaries.
Source: sanmigueldeallende.gob.mx