America's new opposition: the women standing up to Trump (The Guardian)
A refugee, a Native American, a transgender woman – these primary winners are changing the face of the progressive left.
It has been a summer of political firsts in the US as a historically diverse field of candidates run for office, largely invigorated by dissatisfaction with Donald Trump's presidency.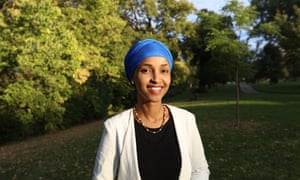 ---
Across the country Democratic women are running for office – and winning primaries – in record numbers. Meanwhile, barrier-breaking candidates have become a feature of the primary election season for not just women, but LGBT, religious minority, and candidates of color as well.
Here are some of the faces looking to make political representation more representative this November:
Ilhan Omar, Minnesota, candidate for US Congress
Omar, a former Somali refugee, was nominated by Democrats in Minnesotaon Tuesday to battle for the state's Democratic-leaning fifth district. She spent the last four years as a state legislator championing progressive causes like a $15 minimum wage and subsidising higher education costs for low-income students.
Her congressional platform has been similarly bold: arguing for the cancellation of student debt, banning private prisons and aggressive funding cuts to military spending for what she calls "perpetual war and military aggression".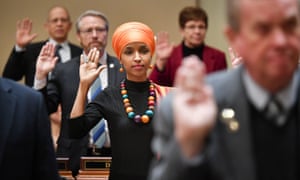 Part of a wave of Democrats unabashedly appealing to the party's left flank,Omar has not been shy in her critique of Democratic politics-as-usual either. "We've become the party that wants to appease everyone and no one. And I think the only way that the Democrats become viable again is if we have people who have moral clarity and courage to say what they need to say and fight for what they need to fight for," she told supporters at a campaign eventbefore her primary win.
CLICK HERE FOR FULL ARTICLE ON THE GUARDIAN
SOURCE: https://www.theguardian.com/
Comments
comments