Do you write poetry, creative nonfiction, fiction, or Spanish language short stories?  Well, now is the time to polish your piece and submit it to us.
This year we will be selecting one winner from each category and inviting them to join us in magical San Miguel de Allende.
Not only could you be one of the writers to walk away with a "Full Conference Package," free lodging, and an agent pitch session, but you could also earn the prestige of being published by the San Miguel Writers' Conference on our website. (The 2018 San Miguel Writers' Conference will take place Feb 14-18)
Submission Deadline: November 1, 2017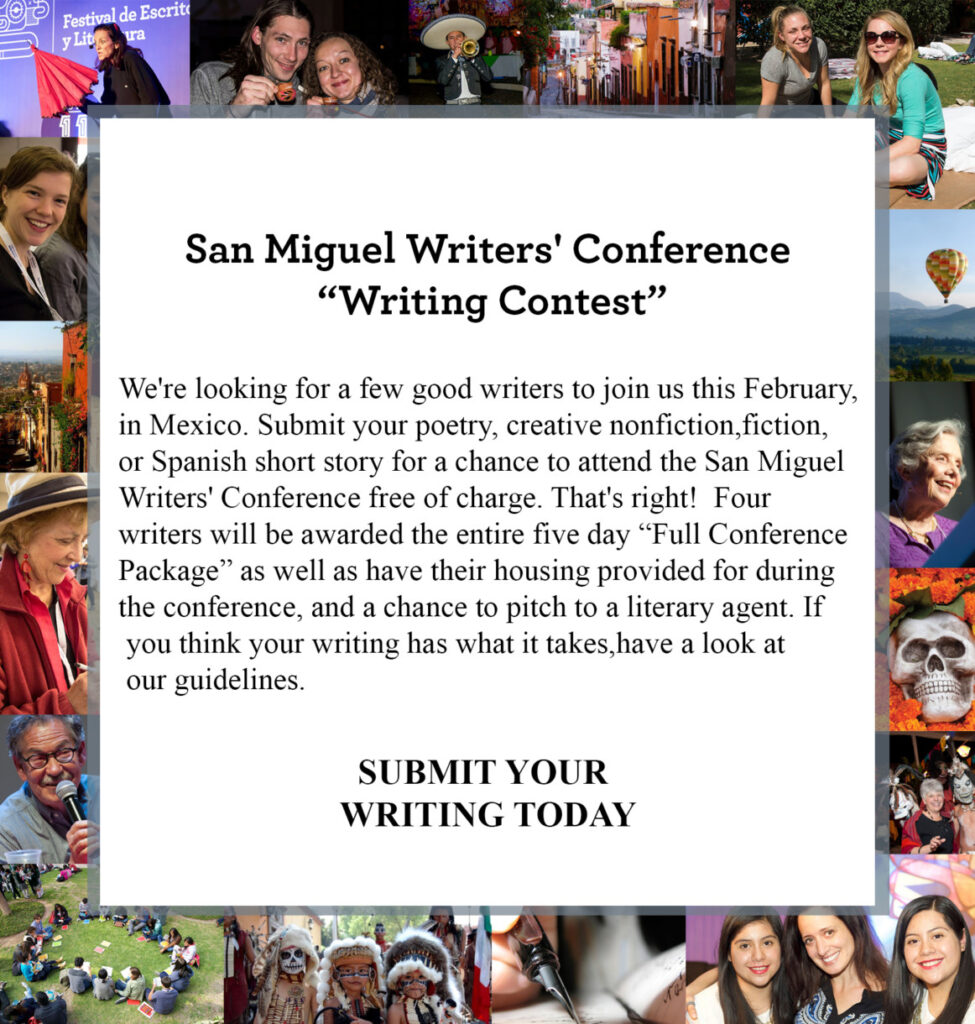 Eligibility, Contestants: The contest is open to anyone writing in English who has not yet published or self-published a book that has sold over 1,000 copies in the genre of application.  Faculty and administrators of the San Miguel Writers' Conference are not eligible to submit to the writing contest.  Previous winners of the writing contest cannot submit and win a second time. Note: For the new category of "International Short Story (Spanish)" submissions should be written predominantly in Spanish.
Eligibility Work: Work submitted must be unpublished.  Work may be simultaneously submitted elsewhere, but if it is published or accepted prior to the judging, it will be disqualified from the competition.
Entry Fee: An entry fee of $30 must be paid for each submission. Note: For the new category of "International Short Story (Spanish)" the fee for this year has been set at $20 USD.
Submission Format: The submission and payment process is entirely electronic. No paper manuscripts will be accepted.
Multiple Submissions: Applicants may submit multiple applications in one or more genres.  However, each application must be complete with entry fee. Each submission must be uploaded separately.
Submission Limits and Format: Prose submissions should not exceed 4,000 words and must be double spaced. Prose  submissions may be excerpts from longer works or a  complete story or prose piece, so long as the length limit is adhered to. Poetry submissions should not exceed 5 pages and may include a maximum of 3 poems. The author's name must not appear anywhere in the work, including in headers or footers. Submissions must be in the form of a .doc .docx .odt or .pdf.
Acknowledgments: Each applicant may follow the progress of his or her entry on the submittable site. Each applicant will be emailed the results of the contest, before the end of December, 2017.
Publication:  The San Miguel Writers' Conference reserves the right to publish winning entries on their website.  Published entries will remain on the San Miguel Writers' Conference website for a maximum of one year. Winners will be expected to forward a short bio and head shot to the San Miguel Writers' Conference.
The Award: "Full Conference Package" fee waivers, including housing, and one agent pitch session will be granted to one writer in each of the following genres: poetry, fiction, creative nonfiction, and international Spanish short story. Transportation to San Miguel de Allende is not provided. The award is valid only for the specific year of the contest and may not be transferred or exchanged.
Entry Withdraw: Submissions can be withdrawn from the contest at any time by signing into submittable and clicking withdraw next to the submission.  No refunds will be given for withdrawn submissions.
Special Note:  Writing contest participants are advised to register for the conference during the "Early Bard Registration Special" if they would like to receive this discount.  Winners of the "Writing Contest" who have already registered for the 2018 conference will receive a refunded of all monies paid.
For more information to: https://sanmiguelwritersconference.org/
---