Peru has been thrown into political crisis after President Martín Vizcarra made good on a threat to dissolve Congress unless lawmakers backed his anti-corruption reforms.
Opposition lawmakers, who are in the majority in Congress, said the dissolution amounted to a coup d'etat.
They suspended Mr Vizcarra and swore in Vice-President Mercedes Aráoz as acting leader.
Meanwhile, Mr Vizcarra decreed that fresh elections be held on 26 January.
Who is in charge now?
Mr Vizcarra and Ms Aráoz each claim to be the legitimate leader of Peru.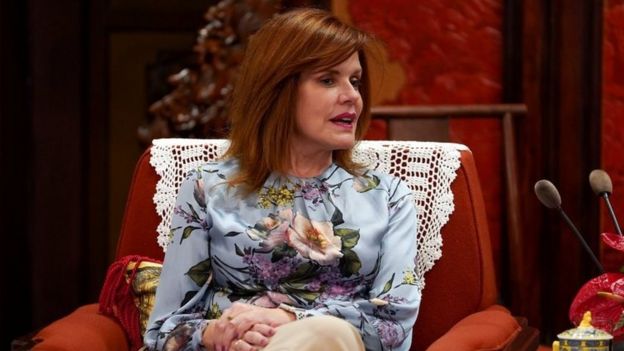 Mr Vizcarra argued that his move to dissolve Congress was constitutional, but opposition lawmakers said it was dictatorial and have refused to leave the building.
A majority of 86 out of 130 members of Congress then voted in favour of suspending Mr Vizcarra for a year. They also declared Ms Aráoz acting president.
Ms Aráoz said she was "temporarily assuming the presidency of the Republic".
But a government source said the vote and swearing-in of Ms Aráoz were null and void because they had occurred after Congress had been dissolved.
Who is backing whom?
The heads of the armed forces and the police have thrown their weight behind Mr Vizcarra, releasing statements saying that they recognised him as the constitutional president and commander-in-chief.
The presidency's press office also published a photo showing the commanders of the army, navy, air force and the police attending a meeting chaired by Mr Vizcarra at the presidential palace in Lima.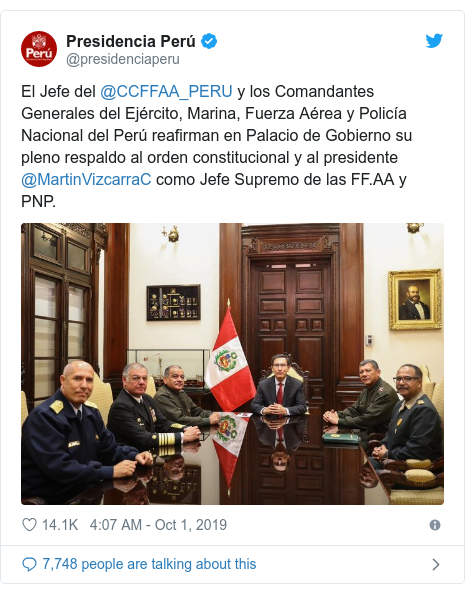 ---
Thousands of people also gathered outside the Congress building to show their support for Mr Vizcarra.
But opposition lawmakers said Mr Vizcarra overstepped his powers when he dissolved the democratically elected Congress. They called his move unconstitutional and him a dictator.
They sang the national anthem and refused to leave Congress while pledging their loyalty to Vice-President Aráoz.
What happens next?
The stand-off between opposition members of Congress and Mr Vizcarra is likely to continue over the coming days with Congress planning to meet again on Friday to vote on a motion to dismiss President Vizcarra altogether.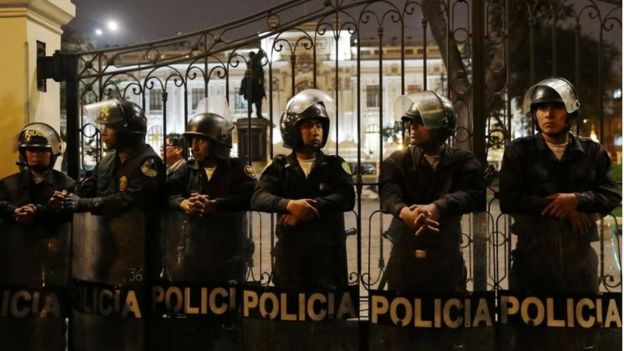 Mr Vizcarra has issued a decree setting parliamentary elections for 26 January. "This exceptional measure will permit the citizenry to finally express themselves and define, at the polls and through their participation, the future of our country," he said.
Meanwhile, a legal battle is expected to kick off to determine if the dissolution of Congress was constitutional or not.
How did it come to this?
Mr Vizcarra was sworn in in March 2018 after his running mate and then-President Pedro Pablo Kuczynski resigned over a vote-buying scandal.
He said he would fight graft head-on, which endeared him to Peruvians tired of endless corruption scandals that have tainted not only Mr Kuczynski but also the three previous Peruvian presidents.
Mr Vizcarra says Congress, which is dominated by the right-wing Popular Force party led by Keiko Fujimori, blocked him from passing a raft of anti-corruption measures.
Ms Fujimori, the daughter of former President Alberto Fujimori, is in jail awaiting trial for allegedly accepting illegal funds from Odebrecht.
Mr Vizcarra accused her party of trying to shield itself from corruption investigations by obstructing his reforms.
"The parliamentary majority resorts to innumerable arguments and tricks, destined to harm not just government but society as a whole," Vizcarra said in a televised address.
He also argued that Congress's appointment of a new judge to the constitutional court would interfere with his efforts to stamp out corruption.
Among other things, the court is soon due to decide whether to free Keiko Fujimori from pre-trial detention.

San Miguel Times Newsroom with information from: